It's Your Move – 500 Inspire prayer spaces transition bags for year 6 students.
Sewing machines around Cambridgeshire and beyond have been hard at work making 500 drawstring cloth bags!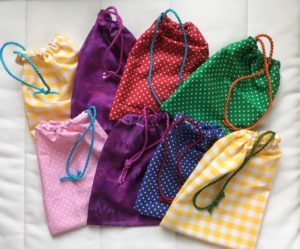 GenR8 under normal circumstances would go into schools and run 'It's Your Move' sessions for year 6 students moving up to secondary school. As this has not been possible for 2021 GenR8 have produced a video workshop for all the schools we have contact with.  For a smaller number of up to 20 primary schools, we are producing 'Inspire Prayer Spaces Transition Bags.'  These individual fabric drawstring bags for each child contain  instructions and equipment for six different prayer space activities. Alongside watching the video, these activities can be carried out in the class and will give children an opportunity to think about their time at their current school, consider the changes that will happen as they move to secondary school, and give them a chance to reflect on their feelings.
In addition, each student will be handed Scripture Unions 'It's your Move' booklet, kindly supplied by the local church(s).